Many agile coaches are looking for new innovative ways to help Scrum and Agile teams improve. They want to coach teams in a way that they can discover how they are doing and come up with ideas to become better and deliver more value to their customers and stakeholders. The Agile Self-Assessment Game is a tool that helps them to do that.
Andreas Schliep, Executive Partner at DasScrumTeam AG shared his experiences playing this game in: Agile Self-Assessment by Ben Linders. Here's what he wrote on LinkedIn Pulse, extended with some more details from our discussion on his learnings.
A different approach to help teams improve
Scrum and Agile teams want to become better. In the beginning, improvement is actually easy to identify and hard to accomplish. The first steps of changing an existing team setup to a suitable frame for agile work are probably well known. Yes, it is hard. Yes, it takes time. And after a while, most teams actually have a proper Product Owner, get decent management support, can organise their work themselves.
Things get harder, once teams have reached a certain basic level. Instead of raising the same fuzzy wishes towards the organisation, teams could try a different approach. This is where the Agile Self-Assessment Game by Ben Linders comes into play. The gameplay may vary, but mostly the discussion revolves around three major points:
What agile practices are important for our team?
How good are we at fulfilling them?
How can we improve?
Playing the Agile Self-assessment Game
I played this game with a software development team recently. We used a variation of the gameplay that came out as a result of Ben's Open Space session about the game at the retrospective facilitators gathering. After I distributed the cards evenly, the team members selected one very important card from their hand. Then we ranked these cards using a method created by members of a previous Scrum Master in-service training, Backlog Ranking.
As it turned out, the method was extremely useful for discussing practices and improvement opportunities. Afterwards, the team members evaluated their fulfillment of these points. We set up a score from 0% to 100%, and the team shifted the cards on the table according to that score.
You would at least expect that the more important items were fulfilled better than the lesser ranking stuff. But it happens quite often that the order of importance does not match the degree of maturity:
So you discover that X is very important for you, but you're not doing very well. On the other side, Y is not so important (still more important than 40 other things), but you obviously spend much energy and time for it. Of course, the expectations would not decrease linearly, but this image gives you some idea of the mismatch that can happen between what's important and how well you are performing.
We did not discuss everything in detail, but gained some valuable insights during this exercise. Based on these insights the team decided to take action. For instance, they agreed to trade estimation accuracy for speed in order to allow for longer-term delivery forecasts and to to invest in mutual learning and code base improvements.
I really recommend the Self Assessment Game for Scrum Masters or Agile Teams as a way to facilitate and focus the discussion about possible improvements. In a next step, the team can figure out how to improve in the identified areas on their own, or where they could use the assistance of an agile or technical coach.
Increasing your agility
Thank you Andy for sharing your experiences with playing the Agile Self-assessment Game! It's great to read how playing the game helped the team getting valuable insights where they can and want to improve.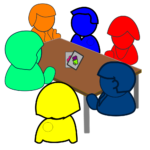 The Agile Self-assessment Game consists of 52 cards with statements on applying agile practices. There are tons of ways to play with these cards to help teams to improve. You can use them for chartering teams, in your retrospective, at a games night or in an open space, in a coaching retreat, or at any other occasion where you want to learn and have some fun.
Version 2.0 of the Agile Self-assessment Game has been released. There's an introduction discount of 50% on the game and all expansion packs. Download the game.