Agile is a journey where you learn and improve continuously. Agile Self-assessments help teams to explore where they are and decide on the next steps to increase their agility.
If you want to become more Agile and Lean, my recommendation is to frequently ask yourself the following 3 questions:
How Agile and Lean are you already?
Where do you want to become more Agile and Lean? And why?
What can you do to make the next step?
Agile Self-assessments help you to ask these questions and travel your agile journey.
The Agile Self-Assessment Game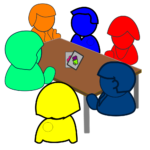 The Agile Self-Assessment Game is used by teams and organizations to self-assess their agility. Playing the game enables teams to reflect on their own team interworking and agree upon the next steps for their agile journey. With this game, they discover how agile they are and what they can do to increase their agility to deliver more value to their customers and stakeholders.
€

8.99 –

€

32.99 (Excl. VAT)

€

8.99 –

€

26.79 (Excl. VAT)

€

1.99 –

€

9.99 (Excl. VAT)
Also available in French, German, Czech, and Polish, see Agile Coaching Tools.
This game, developed by Ben Linders, has been played at the XP Days Benelux 2016, Oefeningen voor Waardevolle Agile Retrospectives, and at many other conferences and meetups.
I also use it for in-house self-assessments with my clients and in my workshops, masterclasses, and training, see Assessing your Agility.
Making Agile Work for You
If your agile transformation is not delivering the expected results or if you are doing agile and want to deliver more value to your customers and stakeholders, then join my workshop Making Agile Work for You.
In this workshop, you will learn how to apply agile practices to develop the right products, deliver faster, increase quality, and become a happy high-performing team!
Tools and Checklists for agile self-assessments
The following tools and checklists are known to me (90++). They can help you to do a kind of startup/health check or readiness/maturity assessment to determine how agile or lean you are.
Partner/sponsored tools:
Note: I'm an affiliate for the above tools, if you visit their website via the above links and sign up then I will receive a commission.
If you want to become agile in an agile way, and would like some support on applying any combination of these tools, see my services / diensten, and feel free to contact me!
Nederlandstalige assessments
Autoevaluación en español
Background information on Agile Self-Assessments
The articles and books mentioned below can help you to do agile self-assessment or to develop your own assessment:
How Agile Are You? on LinkedIn
My book The Agile Self-assessment Game
Personality types: Myers-Briggs Type Indicator and DISC assessment
Team Dynamics: Satir Change Model,  Human Dynamics and Tuckman's Stages of Team Formation
Measuring and managing agile maturity (tag: measurement) by Brad Murphy
Something agile: new ideas for agile implementation by Jan Gentsch
A List of Agility Tests by David Koontz
Agendashift by Mike Burrows
Agile Managen and Agile Management by Mike Hoogveld
Are You Agile? An Assessment Can Tell You by Joel Bancroft-Connors
Model for Team Effectiveness based on research by Richard Hackman, described in Leading Teams
Agile Assessment Guide – Best Practices for Agile Adoption and Implementation by US Government Accountability Office (GAO)
A Catalogue of Agile Smells for Agility Assessment by Ulisses Telemaco, Toacy Oliveira, Paulo Alencar, and Don Cowan
An Assessment of Modern Agile Assessment Tools by Anthony Mersino

New

Agile Assessment Methods: Current State of the Art by Ulisses Telemaco, Paulo Alencar, Donald D Cowan, Toacy C Oliveira
New Assessing Agile Methods: Investigating Adequacy, Capability, and Effectiveness by Shvetha Soundararajan

New

Perceptive agile measurement: New instruments forquantitative studies in the pursuit of the social-psychological effect of agile practices by Chaehan So and Wolfgang Scholl
Recommended books
If you want to use agile self-assessments to help your teams and organization improve, here are some books that I highly recommend.
How about the CMMI for Agile Self-Assessments?
I didn't mention the CMMI in the list above, although it is a model that is clearly meant to assess organizations. And you can self-assess with the CMMI using class C assessments, I did that many times myself.
My feeling is that the CMMI is not very helpful when it comes to assessing agility or implementing agile (blogged on that long time ago in CMMI V1.3 Agile). Then again, a good level 5 organization that has a deep understanding of the processes and practices that they use and is able to adapt to changing circumstances would be an organization with high agility; Maturity, capability, and agility, can certainly co-exist!
Missing an agile self-assessment checklist or tool
Do you use an agile checklist or tool that is not mentioned on the list? Or know a related article that helps to do agile self-assessment? Please send me a link with a short motivation why you think it should be added to the list. Thanks!
Increasing your Agility
Feel free to contact me if you want to play the Agile Self-assessment game to assess your agility or learn more about agile self-assessments, and improving your agility.

 +31 6 2901 3863


 [email protected]


@BenLinders


Ben Linders


Ben Linders Advies

Tilburg, The Netherlands
(last updated on September 29, 2023)