Becoming agile is a journey, which can be difficult to travel. The Agile Self-Assessment game is there for you to self-assess how agile you are and smoothly and successfully travel your agile journey. I provide many services for assessing your agility and can help you to increase delivered value.
After deciding why you want to become agile you start looking for ways how to get there. Questions like "what do you want to keep from your current way of working" and "what would you like to change" will come up. Then the next question is "what are ways to do this".
There isn't a silver bullet or standard route to become agile, you have to find your own way.  A fixed route description won't help you. You need an "agile map" that inspires you with ideas and a guide which provides suggestions on where to go next on your journey.
Services
The following services are offered:
In-house workshop: Playing the Agile Self-assessment Game (contact me for details)
Public workshops which include the Agile Self-assessment Game
Agile assessment for your team, department, or organization (contact me for details)
Train the assessors, remote or on-site training for facilitating self-assessments (see Kick-off training)
Agile Self-assessment game – Corporate Edition: Game, playing suggestions and experience stories, multi-team license, kick-off training and Free Lifetime Support, all in one buy for a reduced price
Facilitation for playing the game at your event (conference, meetup, hackathon, game lab, etc)
Tailoring the Agile Self-assessment Game to your specific needs
Licenses for playing the game
…
As a senior adviser and coach with more than thirty years of experience in software development and management, I'm there to guide you through your agile journey and help you increase your agility to deliver more value to your customers and stakeholders!
Agile Self-assessment Game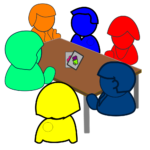 The Agile Self-Assessment Game can be used by teams and organizations to self-assess their agility. Playing the game enables teams to reflect on their own team interworking and agree upon the next steps for their agile journey. With this game, they can discover how agile they are and what they can do to increase their agility to deliver more value to their customers and stakeholders.
€

1.99 –

€

9.99 (Excl. VAT)

€

17.49 –

€

32.99 (Excl. VAT)
This game, developed by Ben Linders, has been played at the XP Days Benelux 2016, Oefeningen voor Waardevolle Agile Retrospectives, Retrospectives Facilitators Gathering 2017, and at many other occasions.
The Agile Self-assessment Game (cards, instructions, supporting materials and extensions) is licensed under a Creative Commons Attribution-NonCommercial-NoDerivs 3.0 Unported License.
Find this game and other agile assessment tools at Agile Self-assessments on BenLinders.com