How can I help you?
I deliver agile training and workshops, provide advice, play games and exercises, and do professional coaching and mentoring for Tech Startups, IT Companies, Software Development Professionals, and Agile Teams all around the world. (Voor Nederland, zie mijn Diensten).
My aim is to help you become more effective and efficient and increase the value that you deliver in your organization and the business value delivered to your customers and stakeholders.
My strength is sustainable improvement and agility: Helping people, teams, and tech organizations to get better at what they are doing and making changes stick so that they get lasting value from it.

You get Free Lifetime Support on everything that I do to help you using what I deliver in your specific situation. I want you to be successful!
Agile Coaching Tools
In my workshops, I use exercises, games, and real-life cases as a way to learn by practicing and experiencing. Many of these available to the software world as digital downloads.
You can download the agile coaching tools in my webshop. These cards and games come with playing instructions and support, ready to be used by Agile Coaches, Scrum Masters, Consultants, and Teams.
In my webshop, I'm offering my books, games, coaching cards, exercises, workshops and remote training, and other agile coaching tools that I use myself for a nominal fee. You can use them to coach professionals, teams, and organizations in improving their performance and the value that they deliver.
Download agile coaching tools developed by Ben Linders directly from BenLinders.com!
Workshops, training, and webinars
I regularly provide workshops masterclasses, webinars, and training sessions, where people gain new insights, try out different agile practices and techniques, and learn how to apply them effectively in their own specific situation.
I also give in-company workshops (on-site and online) for tech startups and larger IT organizations, which I tailor to their specific situation and needs. These workshops help teams and organizations to increase their effectiveness and agility and to deliver more value.
People who attend my workshops receive complimentary copies of the exercises and games that they played. Many of them do play them afterward with their own teams, leading to sustainable improvement.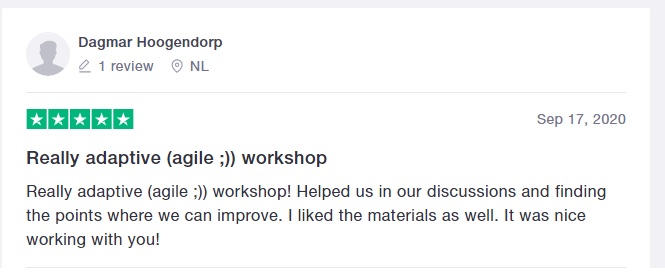 Contact me to discuss the training possibilities!
Advice, mentoring, and (remote) coaching and facilitation
I have broad international experience in Agile, Lean, Quality and Continuous Improvement, and organizational development, working with technology organizations as an adviser, coach/mentor (on-site and remote), facilitator, assessor/auditor, and change manager.
I provide remote training, mentoring, and coaching, which are one-on-one intensive sessions on a topic of choice. The aim of these live online video sessions is to get just-in-time maximum value with limited time investment. You will get materials upfront to prepare for a session and Free Lifetime Support after the session.
I'm also available as an independent facilitator for Agile Retrospectives, Self-assessments, Causal Analysis, Problem-solving, etc. Both remote and on-site facilitation is possible.
If you're stuck in your career or if like to explore your strengths, feel free to contact me. I can help you self-reflect and thinks about the options you might want to explore.
Contact me to talk about what I can do for you and your organization.
Public speaking
I frequently speak at tech and agile conferences: Keynotes, tutorials, mini-workshops, and regular talks. See my presentations.
I'm also an experienced organizer and facilitator of events, networks, and meetups, and an active member of several networks on Agile, Lean, and Quality.
Contact me to talk about what I can do for your conference.
Editor for InfoQ
As a side job, I write for Info.com as an editor on Culture and Methods. I started in 2012 writing news, nowadays I mostly do Q&As (written interviews) and articles. Find all publications on my InfoQ profile.
As an editor for InfoQ, I regularly attend software technology and agile conferences to cover talks. I'm mostly interested in experience stories, culture change, and emerging practices and new developments in organizational change and leadership.
If you want to invite me to join your conference and cover talks on InfoQ, please contact me.
Testimonials
This is what people say about working with me:
I've had the opportunity to work with Ben for our unit's quality improvement initiative, and I'm glad to recommend the commendable work Ben has done towards it. Right from the initial kick-off phase till the end and during the follow up phase, Ben's approach and deliverables are top notch. The way the assignment was handled per the contract and the deliverables were really satisfactory and the PDM method adopted also brought in good results in terms of visualization and also to act on the issues. This also set the base on handling potential future bugs. To summarize, Ben's work and the PDM are value addition towards the improvement initiative we've had towards quality control. Looking forward to work with you again.

Ravi Chandran, General Manager at Ericsson India Global Services
Ben is very knowledgeable and highly experienced in Agile. He is coaching me remote on Scrum and Kanban. The coaching sessions that we did on agile estimation, backlog management, flow and bottlenecks, handling impediments and retrospectives helped me to use these practices in my daily work. I am very happy to learn from him and work with him, highly recommend him for agile coaching.

Patama Parivatanamisorn, Scrum Master at Spinify
Ben's work with us as an Affiliate here at the SEI has been quite valuable for all concerned. He brought considerable practical insight to the work that he instigated with us on modeling quality factors and process performance. Moreover, his excellent work ethic is matched by his proficiency with the measurement and simulation methods that underlie that work. He is a very quick learner too, as evidenced by the ease which he mastered the survey research methods and tools that we used in support of the work.

Dennis Goldenson, Senior Member of the Technical Staff, Carnegie Mellon University, Software Engineering Institute
During the time when we tried to implement Agile for the Multimedia Business unit at Ericsson, I had the opportunity to work with Ben looking at way to simplify the implementation. Ben was a great consultant to work with, we used Agile even when we developed process and Ben was always on time for his part of delivery. He is quite knowledgeable with Agile and bold in his ideas to make the process simple.  The "Ericsson flavored" Agile is now implemented accross the board in Multimedia group of several hundred SW developers and Ben was a big contributor to this effort.

I would recommend Ben to any SW companies wanting to move to Agile to improve time to customer and at the same time to ensure a high level of quality.

Nam Nguyen, Management Consultant at Agile System Engineering (ASE)
From the 47 recommendations on LinkedIn, 25 recommendations are about the work that I have done as a one-person company since 2009. Here's what people have to say:
Ben is a great trainer with a lot of powerful insights and a lot of experience. 

The overall experience was excellent both from a content and coaching perspective, using a pragmatic delivery approach which proved to be very useful.

Ben came across as a highly approachable and experienced person who was presenting his own experiences through easy to follow, fun-filled exercises.

One of the most useful workshops I've been on.

Ben is very knowledgeable and highly experienced in Agile.

Especially for Product Owners and for Scrum Masters, this training will help you and your organisation evolve to the next level. Thank you, Ben!

I was still impressed by his vast knowledge, professionalism and genuine interest in understanding our pain points in order to tailor the course to address our specific needs.

I consider Ben as one of the very best Agile coaches in Holland and he did not disappoint us! 

His reviews and attention to details has helped me create articles of a high quality that I am proud of.

Ben is a super guy to work with and I highly recommend him.

I would recommend him for in-house training, workshops, agile implementations and projects and initiatives that impact organizations or employee's.

Ben is very eager to share his knowledge and experiences.

Ben is a guy who is able to make complex stuff easy and down-to-earth. Due to his flexible attitude he is able to tailor his ideas to the specific needs of an organization.

When Ben commits to a task he is not just involved but into the work with full dedication. 

I see concrete results of the added value of Ben in our organization.
I've received reviews from 21 customers on Trustpilot on my products and services, adding up to a score of 4.5 on a scale of 5. My customers are saying:
Really adaptive (agile ;)) workshop! Helped us in our discussions and finding the points where we can improve.

But above all I can give you a thumb up for what you have created and what you share!

Great cards for self-diagnosing groups!

Products truly helped me navigate my first retrospective. I will continue using and checking back for supportive products.

All fine! Download and everything works.

Whenever I was blocked with a problem I was able to find a solution in your content that you provide.

Responsiveness was amazing. Team really liked activity.

I feel that after the training I'm ready and inspired to start using the game effectively to improve my team's performance.

Great products for Agile Enablers….

Great games, agile simplified and really helpfull in coaching teams.

Mr. Linders does a great job taking care of whoever comes to him.

Ben is very unique as not only does he create great tools at reasonable prices, he also goes the extra mile, by allowing people to contact him directly for better understanding and mentoring.
Facts and Figures
I started my company Ben Linders Consulting in July 2009, after having worked for several smaller and larger IT companies for more than 25 years.
It's a one-person company where I provide a variety of services and products to serve tech startups, IT companies, teams, and professionals, who want to increase their effectiveness and deliver more value to their customers.
Here's some data on what I do (as of February 2021):
100+

workshops

given (public and in-house, on-site and online)

1000+ workshop attendees from all around the world

25+ countries visited on 5 continents for workshops or conferences sessions

30.000+ books copies sold

3500+ downloads of agile Coaching Tools

2000+ articles published (on my blog, InfoQ, etc)
Contact Information

 +31 6 2901 3863


 [email protected]


@BenLinders


Ben Linders


Ben Linders Consulting

Tilburg, The Netherlands