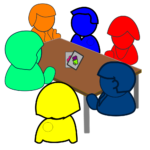 A new version of the Agile Self-assessment Game has been released. There's an 50% introduction discount on the game and all expansion packs, valid until July 16.
Version 2.0 released
The Agile Self-Assessment game is there for you to self assess how agile you are and smoothly and successfully travel your agile journey. Version 2.0 has been released which includes major updates:
Improve card texts which stimulate teams to discuss how they are doing
Additional cards for teams to assess their agility
Updated playing instructions
Use the coupon "Discount game – June 2017" to get the Agile Self-assessment Game for a reduced price of €4.99 (normal price €9.99). 
Compatible with all agile frameworks
Where previous versions were a mix of general agile practices and specific Scrum practices, version 2.0 has become a full agile game. The card texts are based on the manifesto for agile software development and generally accepted agile principles and practices. This makes the game useful for all agile team, whether using Scrum, Kanban, XP, Lean, DevOps, SAFe, LeSS or any other agile framework.
Specific agile frameworks are supported with expansion packs with additional cards. Currently the following packs are available:
The expansion packs are offered with a 50% discount for a limited time, €0.99 each, so don't wait too long!
More frameworks will be added in the future.
Testimonials
This is what people say after playing the game:
The cards help to get the team out of the daily work and daily mindset.

This is a wonderful way to get your team talking about how they are "being" agile!

The game really did add value and I got some real insight into the thoughts of people.

Ben's Agile Assessment game is easy to adopt and easy for teams to pick up.

We realized our agile maturity level, recognized actionable improvements and had great fun and insights!

Playing the game builds clarity and alignment on what Agile means to everyone on the team and helps team members meaningfully evaluate their agility.

It's a great tool to use for a retrospective.
Playing the Agile Self-assessment Game
Downloading the Agile Self-assessment Game allows you to play the game in teams to find out how you are doing and decide what to do to increase your agility.
The Agile Self-assessment Game and all expansion packs are licensed under a Creative Commons Attribution-NonCommercial-NoDerivs 3.0 Unported License. Any commercial usage is prohibited, please contact me if you are interested in providing products or services that include the game in any way.
Assessing your agility
As a senior adviser and coach with more that thirty years of experience in software development and management I'm there to guide you through your agile journey and help you increase your agility to deliver more value to your customers and stakeholders.
I'm offering services like in-house workshops and public workshops which include playing the Agile Self-assessment Game, agile assessment for your team, department, or organization, facilitation for playing the game at your event (conference, meetup, hackathon, game lab, etc), and tailoring the Agile Self-assessment Game to your specific needs. Contact me for details.