Welkom bij Ben Linders Advies. Wat kan ik voor je doen?
Er voor zorgen dat organisaties effectiever en sneller software kunnen ontwikkelen en managen, dat is waar ik goed in ben. Met continue verbetering door het toepassen van o.a. Agile, Lean, Retrospectives, Scrum, Kanban, CMMI en het People-CMM. Zodat teams waardevolle software producten en services op tijd kunnen leveren aan hun klanten. Ik focus daarbij op kwaliteit, processen, samenwerking, communicatie, professionalisering, en vakmanschap. (For English, please see my Services).
Mijn dienstverlening
Workshops en trainingen
Ik help organisaties om kort cyclisch en effectief blijvend te verbeteren. Daarvoor verzorg ik regelmatig workshops en trainingen op het gebied van Agile, Lean, Retrospectives, communicatie en samenwerking, kwaliteit en continue verbetering.
In mijn gerichte workshops krijg je nieuwe inzichten, ervaar je alternatieve werkwijzen en leer je hoe je ze kunt toepassen in je eigen specifieke situatie.
Ik verzorg zowel in-house als open inschrijving workshops (wereldwijd).
Geplande evenementen in Nederland en Belgie
There are no upcoming events.
Advies, coaching en begeleiding
Mijn kracht is om in korte cycli een effectieve aanpak te kiezen en samen met alle betrokkenen toe te passen.
Ik adviseer organisaties en ondersteun en begeleid ze bij het toepassen van agile principes en practices.
Coachen doe ik zowel on-site als remote (via Zoom, Google Meets, Skype, etc).
Agile Zelfevaluaties
Hoe agile zijn wij en wat kunnen we het beste doen om onze agility te verhogen? Met agile zelfevaluaties help ik coaches, teams, en organisaties om deze vraag te beantwoorden.
Er bestaan veel verschillende tools en checklists voor agile zelf evaluaties. Ik geef ondersteuning bij het maken van de keuze en het toepassen van agile self-assessments en adviseer welke verbeteringen mogelijk en zinvol zijn.
Niet tevreden met de resultaten van agile in de organisatie? Als onafhankelijk adviseur verschaf ik inzicht in de resultaten van een agile transformatie, maak de knelpunten en onderliggende problematiek zichtbaar, en begeleid organisaties bij het maken en uitvoeren van een agile plan van aanpak waarmee ze wel waarde uit agile kunnen behalen.
Ook train en coach ik Scrum masters en agile coaches in het toepassen van agile zelfevaluaties bij agile transformaties.
Boeken en Games
Mijn kennis en ervaring deel ik in mijn boeken: Getting Value out of Agile Retrospectives, Waardevolle Agile Retrospectives, What Drives Quality,  Problem? What Problem?, Continuous Improvement, en The Agile Self-assessment Game.
Ook ontwikkel ik hulpmiddelen voor bijvoorbeeld agile coaches en Scrum masters: De Agile Self-assessment Game en Agile Zelfevaluatie Kaarten.
€

9.99 –

€

19.99 (Excl. VAT)

€

1.99 –

€

9.99 (Excl. VAT)

€

1.99 –

€

9.99 (Excl. VAT)
Wat zeggen mijn klanten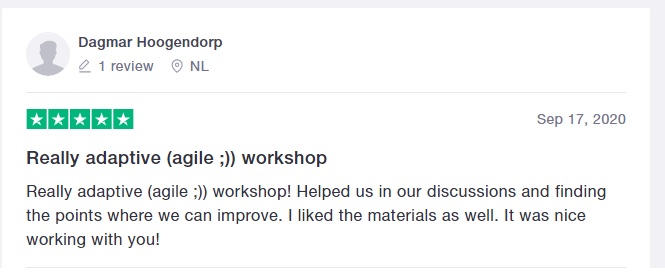 Vind meer aanbevelingen op LinkedIn.
Over mij
Als onafhankelijke adviseur in Agile, Lean, Kwaliteit, en Continue Verbetering help ik organisaties om effectiever software te ontwikkelen.
Ik ben een samenwerker, gedreven, ondersteunend en pragmatisch. Mijn uitgebreide kennis en ervaring pas ik toe om de bijdrage van R&D/IT te verhogen, en professionals te helpen bij het leren en toepassen van nieuwe vaardigheden. Om je nog beter van dienst te kunnen zijn, werk ik samen met enkele gerenommeerde partners.
Ik kom graag met je in contact om samen te kijken wat ik voor je kan doen?

 +31 6 2901 3863


 [email protected]


 Ben Linders