Playing the Agile Self-Assessment Game at Lean Agile Scotland 2017
October 4, 2017

-

October 6, 2017
I will be playing the Agile Self-assessment Game with teams at Lean Agile Scotland in a 90 minute mini-workshop:
Becoming agile is a journey, and it can be a difficult one. The Agile Self-Assessment Game is there for you to see how agile you are – and smoothly and successfully travel your agile journey.

Assuming that you know why you want to become agile (a first but crucial step), you start looking for ways of getting there. Questions like "what do you want to keep from your current way of working?" and "what would you like to change?" will come up at the start. The next questions that usually pop up are "how are we doing?" and "what can we do to improve?".

Come play the Agile Self-Assessment Game in teams to discover how agile you are – and what you can do to increase your agility.

Players will receive a link to download the card game so that they can play it in their own organisations (CC BY-NC-ND 3.0 License).

I designed this game based on my experience with coaching teams, and my background in organisational development and assessments.
Agile Self-assessment Game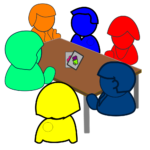 The Agile Self-Assessment Game can be used by teams and organizations to self assess their agility. Playing the game enables teams to reflect on their own team interworking and agree upon the next steps for their agile journey. With this game they can discover how agile they are and what they can do to increase their agility to deliver more value to their customers and stakeholders.
InfoQ
I will also be covering sessions from Lean Agile Scotland on InfoQ.com.
Upcoming workshops
An interactive online workshop where you can practice culture change, learn how to increase team autonomy and morale, and explore using retrospectives to keep your agile journey going smoothly. Join me on September 27, 2022.

September 27, 2022

at Online

This year I'm giving a full-day tutorial on Problem Solving with Agile Thinking and Practices at Agile Testing Days. Join me November 21 to learn how you can handle impediments effectively and faster and practice your problem-solving skills.

November 21, 2022

at Dorint Sanssouci Berlin/Potsdam
In need of advice, consultancy, training or workshop? Have a question? Contact me!

 +31 6 2901 3863


 [email protected]


 @BenLinders


 Ben Linders


 Ben Linders Consulting

 Tilburg, The Netherlands