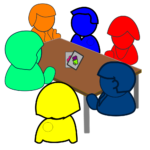 Hundreds have downloaded the Agile Self-assessment Game since it became publicly available early December 2016. I'm honored to have so many people interested in this new way for assessing teams and increasing agility. I'm currently updating the game and I need your help.
The cards and supporting materials are still in development and will be updated in the coming weeks. If you have played the game, then please share your experiences with me! Also suggestions to improve the game are very welcome!
Thanks in advance for your feedback on the Agile Self-assessment Game!