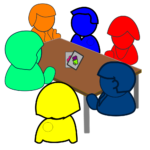 I'm developing an expansion pack on Business Agility for the Agile Self-Assessment Game together with Brandi Olson. Currently we're looking for reviewers to improve the cards. Can you help us?
The Agile Self-assessment Game helps teams to discover how agile they are and what they can do to increase their agility.  The starting deck consists of 52 cards with statements that can be used by teams and organizations to self assess their agility. The game can be played by teams to reflect on their own team interworking and agree upon the next steps for their agile journey.
The Business Agility Pack will be the third extension for this game after the DevOps and Scrum packs. It will consist of 26 cards with statements on Business Agility. Agile businesses can use these cards together with the existing 52 cards to play the game.
If you have experience with Business Agility, for instance from being involved in an agile business transformation, working with agile business teams, or improving collaboration between agile development teams and business stakeholders, and you want to invest an hour to review the Business Agility cards, please contact me.
In return you will gain insight how organizations can self assess their business agility and find ways to improve themselves.