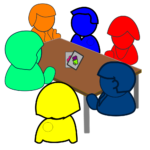 A new version of the Agile Self-assessment Game has been released. Several new playing suggestions have been added and some layout corrections were done to make it easier to print and cut the cards.
Playing suggestions
The Agile Self-Assessment game is there for you to self assess how agile you are and smoothly and successfully travel your agile journey. Version 2.1 includes two new playing suggestions:
Investing in Agile; helping teams to decide where and how to improve
Sailboat retrospective with the Agile Self-assessment Game
More playing suggestions will be added in the future, stay tuned!
Featured on Scrum Expert
The online magazine Scrum Expert features my game with the article Self assessing your Agility:
Agile is about giving responsibility to the people, and self-organization is one of the way this is achieved. Agile is also about continuous improvement and adaptation. To follow this journey, the Scrum teams need to assess how they are doing and where they should improve. In this article, Ben Linders discusses Agile self-assessments and how they can support the continuous improvement process to an Agile mindset.
Go to benlinders.com/downloads and use the coupon "Scrum Expert" to get 40% off for the Agile Self-assessment Game and all expansion packs (Scrum, DevOps, etc). This coupon is valid until August 31