Looking at business results, how important do you consider the capability of your workforce? The knowledge and skills of your professionals, and their motivation and drive? My opinion is that it is of huge importance when you want to reach business goals.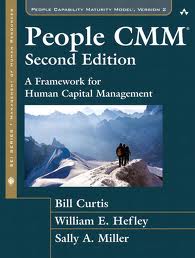 There is increasing belief that investing in professionals pays off. Several frameworks are their to help organisations to develop their workforce, like the P-CMM. The purpose of the P-CMM is to support organizations in addressing critical people issues. The model has been available since 1995, version 2.0 was released in 2001. It has a similar structure as the CMMI, consisting of 5 maturity levels with process areas. The P-CMM aims to support those responsible for managing and developing the workforce; these are typically the management and human resource functions in organization.
I am a board members of the Dutch P-CMM working group, which is part of SPIder (the Dutch official Software Process Improvement Network, SPIN). We have setup a website to exchange experiences and started a blog. Since we are a Dutch working group, part of the material is in Dutch; we try to publish as much as possible in English but if we run across good things in Dutch then we also share them on our website and blog. You are welcome to join our on-line discussions. If you are living in the Netherlands, I also welcome you to join our working group, which are free of charge (this is by professionals, for professionals, helping each other).