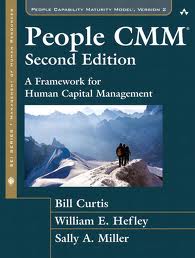 Op donderdag 15 september is de volgende bijeenkomst van de SPIder P-CMM werkgroep, met als thema: People-CMM, de basis. We kijken terug naar de People-CMM niveau 2 procesgebieden die we de afgelopen jaren besproken hebben. Met deze procesgebieden legt een organisatie de basis voor goed people management.
De avond begint met een korte kennismaking, daarna bespreken we de procesgebieden uit het People-CMM Model. Na de broodjes pauze is er gelegenheid om een case te bespreken. Heb je een ervaring die je met de groep wilt delen en die aansluit op de niveau 2 gebieden (zie hieronder), laat even weten, dan kunnen we die bespreken. Of we nemen een actueel onderwerp (b.v. Het Nieuwe Werken, Talent Management, Agile & Teams, Workforce of the Future, P-CMM bij toepassen van CMMI, etc) en kijken wat de niveau 2 procesgebieden van het P-CMM aan best practices hebben die we kunnen gebruiken.
Omdat we de basis van het People-CMM bespreken is dit ook een prima gelegenheid voor nieuwe geïnteresseerden om in te haken in de werkgroep. Deelname aan de bijeenkomst is gratis. Voor meer informatie en aanmelding, zie de website van de P-CMM werkgroep, LinkedIn of neem contact met mij op.