The book The Age of Surge focuses on the organizational side of digital, exploring a human-centered approach to scaling agility and transforming companies. It provides the Digital Wave Model, a framework that can be used for digital innovation and enterprise transformation.
I interviewed the authors Brad Murphy and Carol Mase about  the digital wave model, how digital transformations impact the role of middle management, the advantages that self-management brings, the conditions or structures that leaders must employ if their goal is to promote increased self-organization and self-management across the organization, what makes platforms and ecosystems so important for digital products, what organizations should focus on if they want their digital transformation to be successful, and their advice for organizations that want to start a digital transformation journey or energize an ongoing transformation. Read the full interview on InfoQ: Q&A on the Book The Age of Surge.
15 quotes from The Age of Surge
Here's a set of 15 quotes from the book The Age of Surge. I'm tweeting these quotes with #AgeOfSurge.
Companies must invest in moving to digital to safeguard their future
You need only 12-15 percent of your organization to change its perspective.
Transformation challenges organizations to act beyond their current experiences, capabilities, and comfort zones
Agility, not Agile, is the antidote to ambiguity and assumptions
Digital transformation is not a destination but a journey through continuous waypoints of digital disruption
The digital products and services you conceive, build, and deploy are constrained by your organizational structure and culture
Technology is the fuel of the digital fire – and it is burning hot and fast
Companies must redesign themselves from an industrial assembly line to a knowledge creating human ecosystem
To prevent amplified error, push decision-making down and around
To achieve team autonomy, self-management, and the skills associated with it, need to be embedded into your organization
Teams, not individual employees, are the foundation of work and innovation
In traditional companies, risk taking and failure are still largely discouraged by culture, politics, and rewards
Make change your friend. Welcome it. Change, then, becomes how you do business.
Where you are and where your own desired future lies will determine your journey as well as how you chart your route
Three very human elements determine the success or failure of any journey you begin: discipline, optimism, and perseverance
Human Side of Agile
If you want to take a human-centric approach to agile, make sure to involve senior management from the start. As I explained before, to become agile managers must think agile. In most companies the mindset and culture has to change to enable agile adoption throughout the whole organization.
Agile transformations can be challenging. Many agile transformations fail where organizations struggle to implement agile practices and don't get sufficient benefits. If you want your agile transformation to be successful, my advice is to travel it in an agile way, focus on the value, and use an "agile map" to know where you are and where to go next.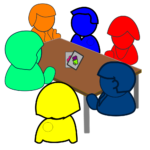 The Agile Self-Assessment Game is an "agile map" that inspires you with ideas and suggestions on where to go next on your agile journey. It's a card game that engages people, it helps them to find out how good they are doing and decide what to improve to increase the value that they deliver.
More books to tweet
Here are some more great books that I summarized with 15 tweets.
I read a lot of books, for me, they are a great way to challenge my thinking, get insights, and learn new stuff. Writing about books supports this, that's why I do book Q&As on InfoQ where I interview the authors (select "articles" on my InfoQ publications).
Books that I have read and that I like are added to my recommended books. I provide book tips in my workshops and when I work with clients. This is one of the ways in which I share my experience.