Do your teams want to know how agile they are? And what could be the possible next steps for them to become more agile and lean? In an open space session about Agile Self-Assessments organized by nlScrum we discussed why self-assessments matter and how teams can self-assess their agility to become better in what they do.
Becoming Agile over Doing Agile
There are many checklists and tools for agile self-assessments. Some of them focus on "hard" things agile practices, meetings, and roles, while others cover the "soft" aspects like an agile mindset and values, culture, and the conditions for agile adoption in organizations to be successful.
We discussed self-assessing team's agility at the nlScrum open space. One conclusion was that most attendants had a strong preference for assessing based on agile values and mindset to explore if and how their teams are becoming agile. This way of assessing distincts teams where professionals have really internalized what agile is and know why they should do it and how it helps them to deliver value to their customers and stakeholder from teams that are only doing agile or Scrum because they have been told to do so by their managers or organization.
Assessing values and mindset involves asking why certain agile practices and rituals are done. It empowers the agile team by developing a shared understanding of the weaknesses and strengths of their way of working and to decide which steps they will take to become better.
Effective agile teams understand the agile culture, mindset, and values. That makes it possible for them to improve their development processes in an agile way. They can use the golden rules for agile process improvement to improve by continuously doing small but valuable improvement actions.
Can teams assess themselves?
As the name suggests, agile self-assessments are intended to be tools for agile teams. The result of an assessment helps a team to know how they are doing to improve themselves. Therefore the results of an assessment are intended to be used by the team alone. They should not be used by managers to evaluate the team's performance or to compare and rate teams.
Question is if you can expect that a team can assess itself? It depends, as usual :-). Teams who have just started with agile can find it difficult to take some distance and explore how they are doing.  They also might not have enough understanding of the why and how of agile to really assess how they are doing. In such cases, an (external) facilitator can help teams to do their first assessments.
Agile retrospectives are another great way for teams to reflect and improve their way of working (read more on how to do them in our book Getting Value out of Agile Retrospectives). They help teams to learn to observe and analyze their way of working and define their own improvement actions.  Many skills that team members develop doing retrospectives are also usable to do self-assessments, so investing in retrospectives makes sense.
Finally, an agile coach can help a team to develop assessment skills, enabling them to do their own assessments in the future. Soft skills matter in IT and agile coaches can help people to learn and improve those skills. Which is also an effective way to help a team to become agile in an agile way.
Agile self-assessments
I like the Open Space Technology (OST) approach, it's a great way to people to get together and discuss those things that really matter to them.
At the nlScrum Meetup about Scrum Maturity Models hosted by Xebia we did an open space session where we exchanged our experiences with agile self-assessments. This is what came up during out stand-up meeting:
I already talked about assessing values over practices and why self-assessments are intended to be used only by the team and not by their managers. In our discussion in the open space and afterwards on the meetup forum several tools and checklists were brought up to do self-assessments and also several models and frameworks were mentioned that can be used to develop your own assessment. Some of them were already on my list of Agile Self-assessments tools and checklist, but there were also some new ones which I added (thanks guys!):
The Agile Self-Assessment Game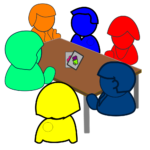 The Agile Self-Assessment Game can be used by teams and organizations to self-assess their agility. Playing the game enables teams to reflect on their own team interworking and agree upon the next steps for their agile journey. With this game, they can discover how agile they are and what they can do to increase their agility to deliver more value to their customers and stakeholders.
€

8.99 –

€

32.99 (Excl. VAT)

€

1.99 –

€

9.99 (Excl. VAT)
This game, developed by Ben Linders, has been played at the XP Days Benelux 2016, Oefeningen voor Waardevolle Agile Retrospectives, and at many other conferences and meetups. I also use it for in-house self-assessments with my clients and in my workshops, masterclasses and training, see Assessing your Agility.
Assessing your Agility
Have you done agile self-assessments? Did they help you to improve and become more agile and lean?
I'd like to hear from you!
(This post was published February 11, 2014, and updated April 1, 2018, revised and added the Agile Self-assessment Game which was developed to help teams assessing their agility)