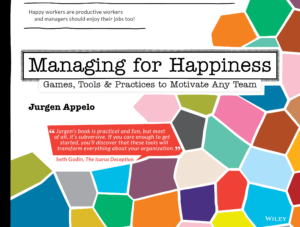 The book Managing for Happiness by Jurgen Appelo gives you many practices, games, and tools that you can use to manage organizations effectively and make work fun.
This book is a re-release of the book Management 3.0 #workout, featuring reworked content and additional chapters.
I did an interview with Jurgen Appelo about rewarding people and rewarding teams vs. individuals, effectiveness of collaboration with remote workers or distributed or dispersed teams, enabling teams to do self-development and self-education, main challenges that remote working can bring to organizations and how to deal with them, giving written feedback, and maximizing learning in organizations. You can read it on InfoQ: Q&A with Jurgen Appelo on Managing for Happiness.
15 Quotes from Managing for Happiness
Here's a set of 15 quotes from Jurgen Appelo's book. I'm tweeting these quotes with #managingforhappiness:
Treating employees like adult human beings might be common sense, but it is not common practice.
Management is everyone's job.
You shouldn't wait for people to come to you. You should go to them.
Complex systems survive and thrive because control is distributed.
The organization must be empowered so that people can make their own decisions.
You can only create new value when you protect what is already valuable.
When there is trust first, there will be results later.
Creative workers have a right to receive useful feedback on their results and they need it fast.
There's nothing wrong with targets as long as you don't bother anyone else with them.
Don't delay measurements until symptoms of problems are popping up.
Regrettably, most compensation systems are considered unfair by employees and unscientific by experts.
Managers are responsible for making motivation a built-in property of the organization.
Research tells us that happiness is more a decision than a destination.
We should celebrate learning, not successes or failures.
Celebrate frequently, noticeably and remarkably.
Happy people deliver more and better results
If an organization wants to perform better and deliver more value to their customers and stakeholders, it makes a lot of sense to invest in the people who deliver this value. This is something that is known for many decades, common sense but not common behavior.
Bob Marshall calls this the antimatter principle: "attend to folks' needs". People are central to the work, understanding and serving them will serve the organization.
Gerald Weinberg stated in his 1985 book the secrets of consulting that "No matter how it looks at first, it's always a people problem". So where should you go if you want to solve it? Go to the people, listen to them and talk with them!
We have Peopleware, a book by Tom DeMarco and Tim Lister, which was first published in 1987. This is the book that I used when I became a team leader and project manager. It inspired me to do my first iterative project with a distributed team in 1989 to collaborate intensively with my customer and deliver quickly. (no sign of agile at that time, only EVO from Tom Gilb).
Then there's the People CMM, an extensive model that you can use to create conditions where people can deliver more value. You can even implement agile with the People CMM.
Jurgen Appelo's book Managing for Happiness provides lots of tips and ideas that you can use to achieve organizational greatness and agility. I've personally experimented with delegation boards to give responsibility to people and teams that I work with. I help teams to learn from failure and from successes and find ways to celebrate the learnings and have fun. Inspire people to learn in many different ways to improve and become better in what they do.
The book has so much wisdom, so here's a 16th bonus tweet:
Never forget that better principles, not better practices, is what organizations really need.
I fully agree with this! If people agree with the principles and see the value, then they will find ways to get there :-).